Pet Cremation and Aquamation
Angelpaw is built to lead the next generation of pet end of life industry via innovative, data driven, open access technologies to ensure reliability, security, compassion, and transparency to all within the ecosystem.
Crematories and Aquamation Facilities automate data collection drastically reducing human effort and errors. Our pet cremation tracking platform fully tracks and makes visible pets through every step of the cremation process, confirming full chain of custody, alleviating need for paper, and digitizing the entire workflow for crematories, vets and pet parents while providing full transparency to all within the ecosystem.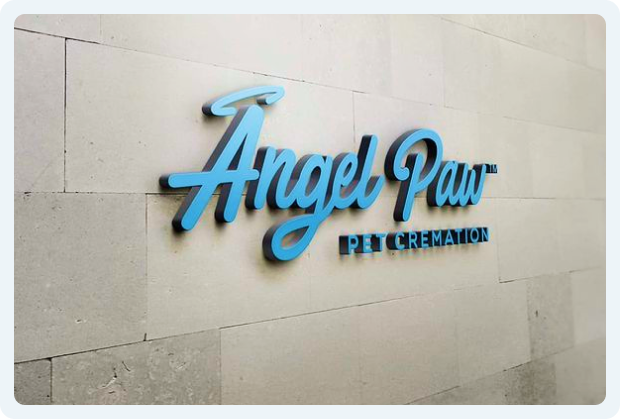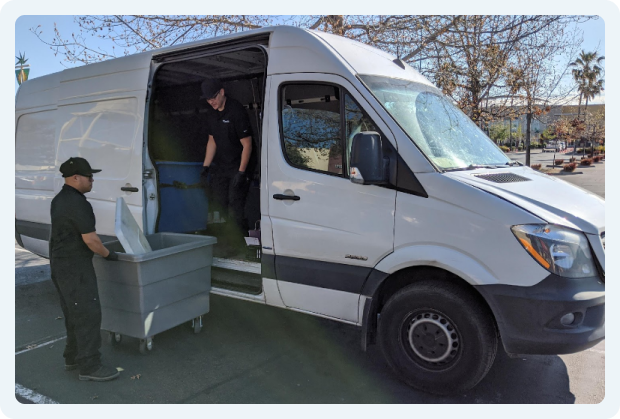 Pets are scanned into and out of pre-established stations once services are performed with time, use and user stamps. Fixed overhead antennas, proximity and mobile handheld scanners detect and read tags. Loading dock antennas automatically pre-check groups of pets within vans as they enter facilities.
RFID tags are automatically updated with change order requests. From crematory portals that map and manage stations pet check-in/out to driver's handhelds which manage fleet pickups/drop-offs routes, to administration portals with full reporting, BI, invoicing direct or through QuickBooks or NetSuite, Angelpaw offers a complete solution to all pet crematory needs.
Veterinarians have full access to all data via reporting and BI tools for individual or multi-location (single location, regional, national or global). Full integration into 94% of all Practice Information Management Systems (PIMS) alleviating the need for double data entry, drastically reducing errors and processing times.
Audit capabilities for vets to have peace of mind with features that combine digital audit (transactional audit, workflow audit), image audit (Station photo's, station screenshots), pet parent experience score and NPS (Net Promoter Score) audit, and physical onsite audits.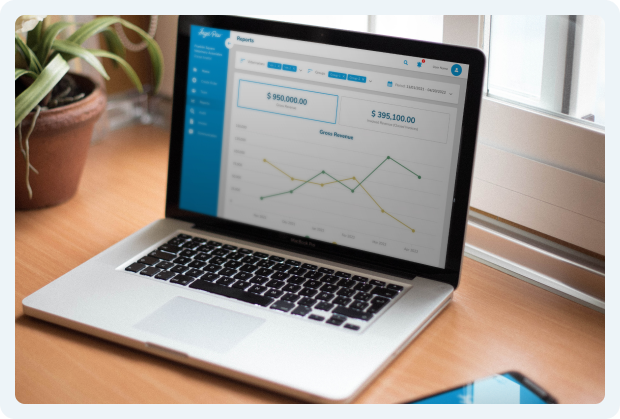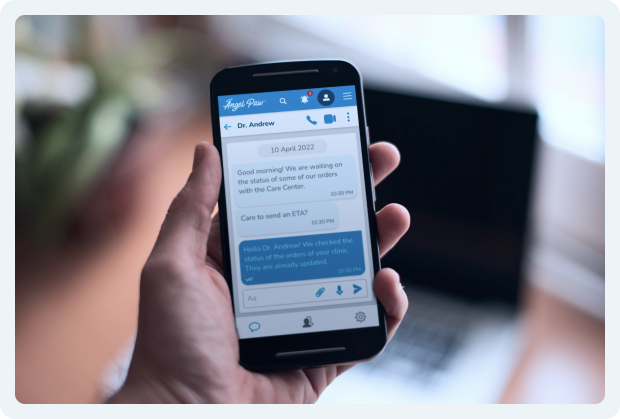 Vets communicate via DM (Direct Message) or Video chat directly to the Crematory real-time. Vets no longer have any paper, all data is imported into the portal and scanned on a UHF RFID waterproof plastic tag that instantly digitally stores all data.
Pet parents have full visibility, transparency, and peace of mind of their beloved pet's final journey, via our web portal, mobile app's, text message and emails.
Our mobile apps and portal offer pet tracking, grief support videos and video conferencing with certified pet loss counselors, celebration video creator to share memories with family and friends on social media and more.
PET PARENT PORTAL
Transparency and accountability
Every Pet Parent has an account linked to their orders, allowing the whole process to be transparent
Texts and emails are sent to update on the status of their pets, letting the Pet Parents in on the entire process
Order details, real-time tracking,
Pet Parents can easily create Celebration videos to share on social media with family and friends
Pet Parents have access to our Grief videos and conferences with certified counselors, providing support with the grieving process
Pet parents also have direct contact with the Crematories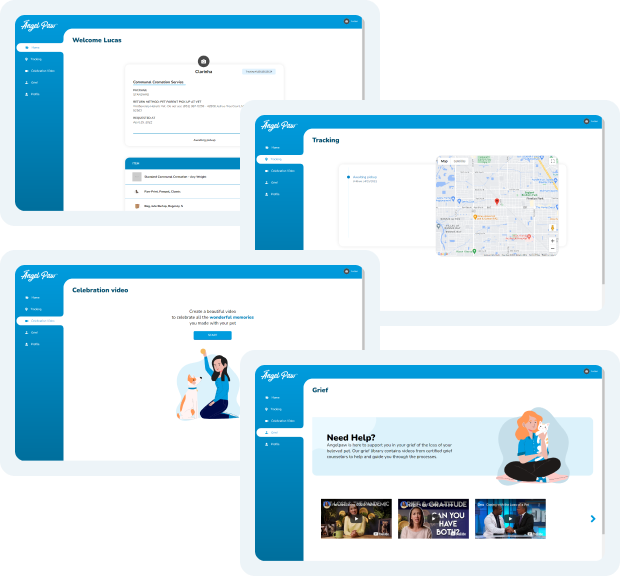 Seamless Mobile experience
The Pet Parent Portal is completely accessible with mobile devices (iOS and Android)
E-commerce, real-time Tracking, Celebration Videos and Grief Support functionalities are 100% supported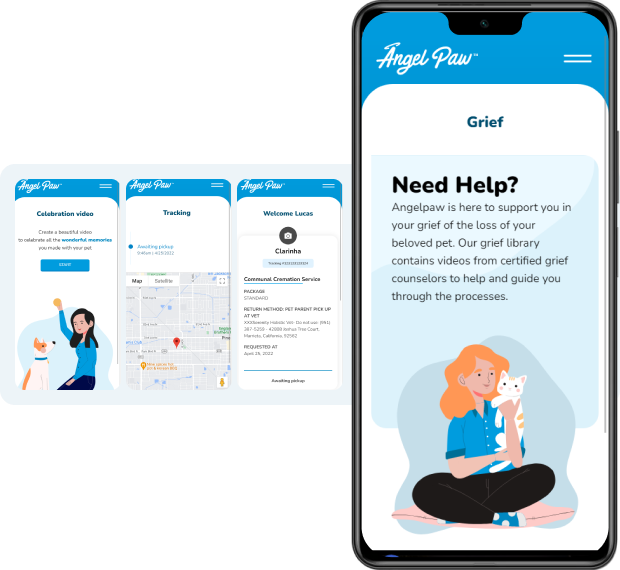 VETERINARIAN PORTAL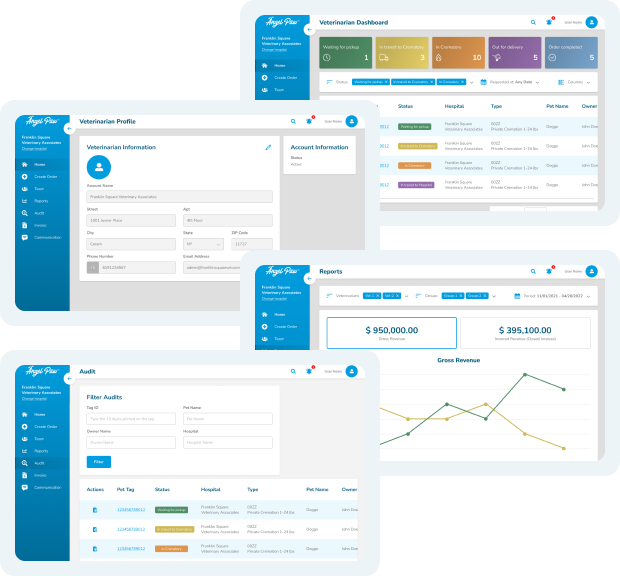 Data driven and user friendly
Veterinarians can see all Orders Captured with the system
Data open to all within ecosystem real-time
Data pulled directly from PIMS or Manual, not requiring double inputs, reducing the possibility of human error
Full Reporting & BI, allowing complete access to relevant data to the veterinarians at all times
Reports by individual, regional or National
Audit Crematory workflow, Orders and Facility, providing transparency throughout the process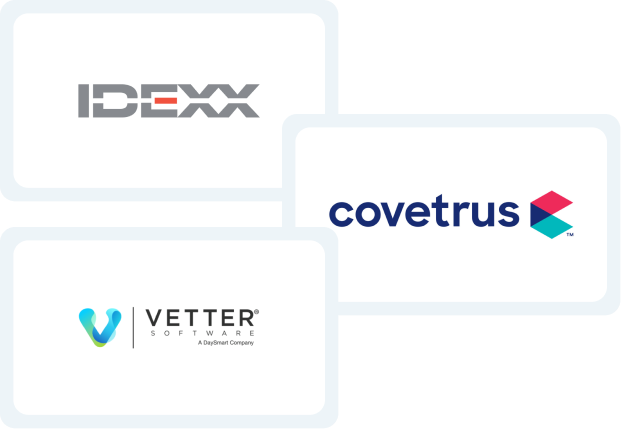 PIMS Vet software integrations
Practice Information Management Systems
Angelpaw is accessible to over 90% of all Vets within North America.
Angelpaw is the only Pet Cremation Software company to integrate directly into PIMS
Angelpaw pulls data directly from PIMS alleviating manual double data entry & errors
Angelpaw pushes data to PIMS to complete pet health file (cremation ended/cremains delivered)
Covetrus & IDEXX cover 90% of all Vets within North America.
Angelpaw has integrated into additional Proprietary Vet PIMS
CREMATORY PORTAL
Real-time tracking and planned routes
Android/iOS based App
Driver picks his daily route, each vet on the routes are shown, pets in vet freezer for pickup & cremains to be delivered to Vet are shown
Each pet/cremains are scanned in with time/user stamps for Chain of Custody
Vet digitally signs handheld confirmation of delivery/chain of custody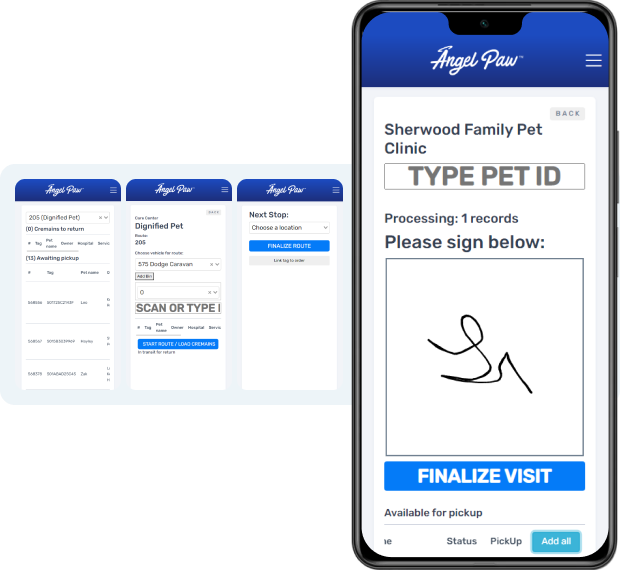 Billing and accounting
Full billing and invoice created for single or all locations
Integration into QuickBooks accounting system
Integration into NetSuite accounting system