Flexible financing for pet aftercare purchases
Angelpaw Buy Now, Pay Later feature is a safe and easy way to accept multiple payments for a pet cremation/aquamation and products. Pet Parents can split the cost of a purchase into several interest-free installments over 45 days. As soon as the installment plan is submitted, Angelpaw manages the scheduling, validation, and transfers.
Our flexible system boosts customer purchasing power, resulting in increased transaction sizes and higher Average Order Value ("AOV") amounts. Buy Now, Pay Later is especially useful for unforeseen and unplanned pet cremations and aquamations, providing pet parents a smarter option than traditional financing or credit card debt.
Buy Now, Pay Later Features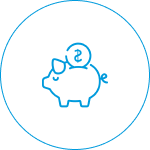 Lower Fees
Up to 70% lower than credit card transaction fees.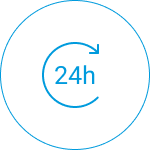 Upfront Funding
The full amount is in your account the next day.
How it Works
An authorization form is completed
The desired payment dates and amounts for each check are entered via our virtual terminal
Angelpaw sends and accept or decline recommendation based on the amount of the combined checks, the customer's financial history and our extensive database
You receive the full purchase amount within 24-48 hours of the transaction's approval