WELCOME TO THE ANGEL PAW FAMILY!
The Journey to Reinvent Pet Cremation

Our Story
Angelpaw was founded in grief but reborn in Love.
Our family lost our beloved beagle, Boo. The cremation service our Vet referred us to was beyond horrible. Slow service, no tracking, no clay paw print, no customer service to speak of, unkind staff and poor-quality urn. We eventually received another pet's remains instead of Boo's. The whole process was antiqued, inefficient, unethical and not deserving of Boo's final sent off.
This unfortunate experience was the genesis of Angelpaw. We refused to have another family go through our nightmare.
Thus, we built Angelpaw with a simple promise to our clients: To Help families Honor, Remember and Celebrate their beloved pet's memory.
In partnership with community veterinarians, Angelpaw leverages state of the art facilities, cutting edge technology and the most compassionate and knowledgeable staff to honor and celebrate the story of your pet's life.

- James Byler, Founder & Chairman Angelpaw
The Problem with Pet Cremation
Every year, hundreds of thousands of pets are cremated by local providers. Unfortunately, all pet cremation services in California are owned and operated by small business owners who although may have good intentions are working with archaic or non-existent systems.
These companies start by placing your beloved pet in plastic garbage bags for transportation. They then use paper ledgers and paper receipts to track pets via pick up, transportation, cremation, package assemble and delivery to and from homes, veterinarian offices, crematoriums and offices, with massive opportunities for mistakes and mishandling.
Some crematoriums do mass cremations where your pet is cremated with other animals and the remains are mixed together. The cremated remains are returned in cheap box urn and no memorial video is provided for you to share your beloved pet's memories with friends and family on social media.
The entire process is not deserving of our beloved pet's life.
The Most Knowledgeable & Compassionate Staff
We're here to serve you! Angelpaw has assembled the dream team of pet cremations agents to build the most compassionate, knowledgeable and effective staff within the industry. From our cremation technicians, drivers, call & support agents, engineers, quality assurance teams and our managers, we all believe creating meaningful ways to pay tribute to our beloved pets memory is shaped by the understanding that each life is truly unique. For us, there is no greater responsibility than honoring and preserving the story of your pet's life.
Backed by Sophisticated Technology
At Angelpaw, we believe the best way to honor your pet and to uphold the trust you've given us, is to guarantee no errors and full transparency. We have to be right every time! We achieve 100% accuracy and efficiencies through cutting edge technology, industrial strength tracking systems and modern systems.
We've built an entire pet tracking system, were every pet is fully tracked and visible through every step of the cremation process. Each pet is assigned a one-time use RFID tag which attaches to the Angelpaw animal bag and is tracked from drop off/pick up to final deliver. The RFID tag tracks your pet real-time through the entire cremation processes. Your pet is first scanned at the Vet or home pickup, then scanned at deliver to the Angelpaw cremation facility, scanned again at pick-up from the cremation facility, then finally scanned as the cremation package is delivery to either the Vet or your home. Text and email messages are sent to the pet owner as each step is completed, giving real-time updates and 100% visibility.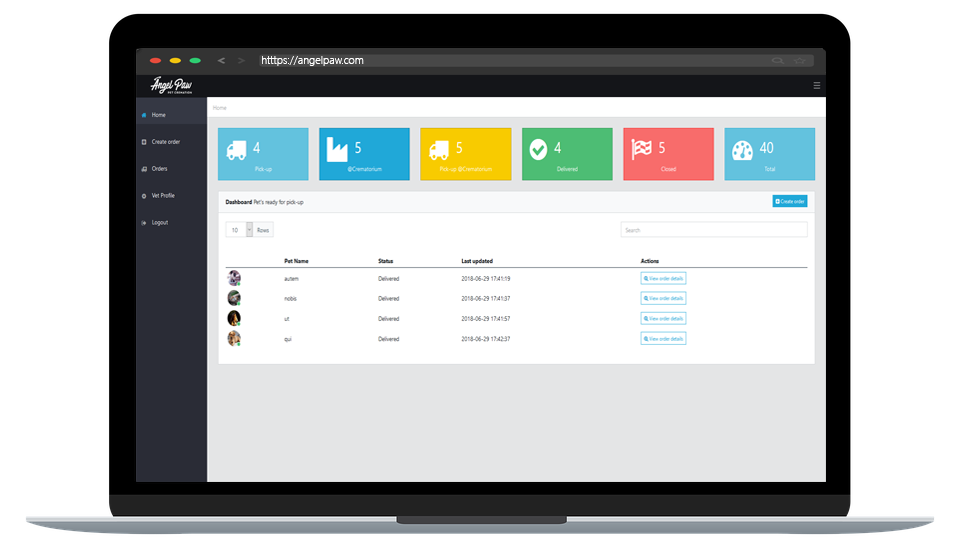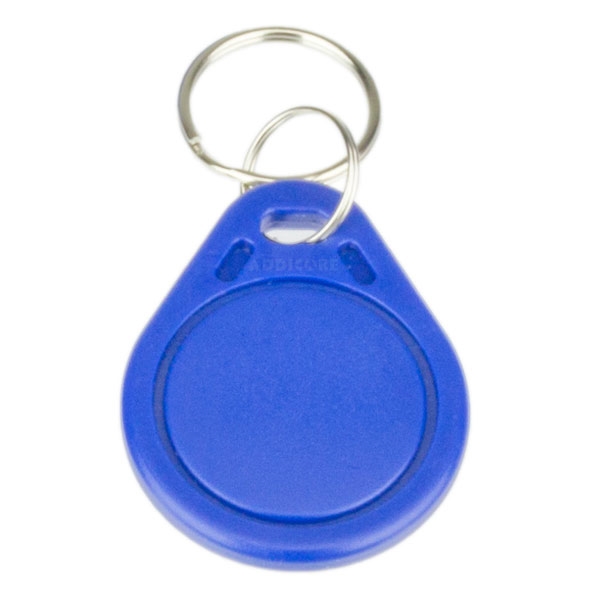 Respectful Animal Bag
Each pet is placed in a water proof, recycled material, sturdy animal body bag designed by Vets for cremation. Each bag is labeled with your pet details as well as a one-time use unique RFID tag is attached to track your pet. Angelpaw provides animal bag to our Vet partners and also given for home pick-up. The pet stays within this bag through the entire process. Sizes range from Small, Medium to Large. NO animal is every placed in plastic bags at any time!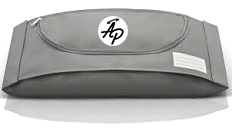 Dedicated Transportation
Angelpaw maintains a fleet of dedicated cargo vans for pick-up and deliver. Angel paw consultant pick up at either the Vet or from your home and delivered back to the same pick up destination.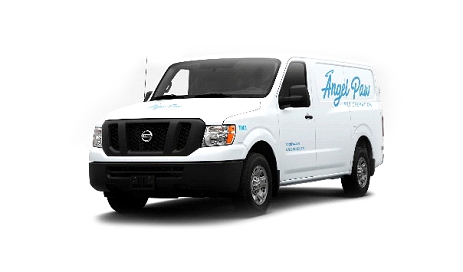 Individual Cremations
Angelpaw only performs individual cremations? Every pet is individually cremated. One pet at a time cremation process is the procedure during which only one pet is present in the cremation chamber during the cremation process. The pet is uniquely identified throughout the whole process. The cremated remains of your pet are the only remains processed and returned
Cremation Package
Each returned pet remains includes, Handmade pet cremation wooden urn with photo frame on the front of the box. Your pets photo printed out and placed within the memorial photo urn. A clay paw print of your actual pet's paw is casted. Certificate that your pet was individually cremated by our certified staff. An Angelpaw carrying bag with all package items inside.

Celebration Video
Angelpaw creates a celebration video of your pet's photos. These videos can be shared on Facebook, Instagram, Twitter and Linkedin to celebrate the life and memories of your beloved pet with your friends and family.